Dinners
Every child in reception, year 1 and year 2 in state-funded schools will receive a free school lunch from September 2014. Children can eat either packed lunches or hot school dinners in our dinning room. It will be a great way of giving your child the opportunity to enjoy a nutritionally balanced and healthy meal, eaten with their friends and learning all about how to socialize together in the dining room.
To ensure that all children get the meal of their choice each day,  we operate an electronic ordering system called Cypad. During morning registration, children select their picture on the interactive whiteboard and then choose from the meal options available, Their lunch order is then sent straight to the kitchen staff.  When your child arrives in the hall at lunch time, they will be asked what class they are in and then select their picture. This will then tell the kitchen staff which lunch option they ordered that morning.  As we know the precise number of each meal ordered, when it comes to service, every child gets their chosen meal. This also helps to reduce school kitchen waste. A vegetarian option is available everyday. However if your child has specific dietary needs please contact our School Office.
The cost of a hot school dinner for nursery children is £1.75 per day.
Please pay either daily or weekly, in advance, by putting the money in a sealed envelope with your child's name and class on it. Cheques should be made payable to 'Sheffield City Council'. Each class has a yellow tray to place named envelopes in.
A copy of the current menu's are displayed in your child's class, school entrance, dining hall, and by clicking on the link below. A copy can also be requested from the school office.
Royd – 3 Weekly Parent Menu – 4 Jan – 1 April 2022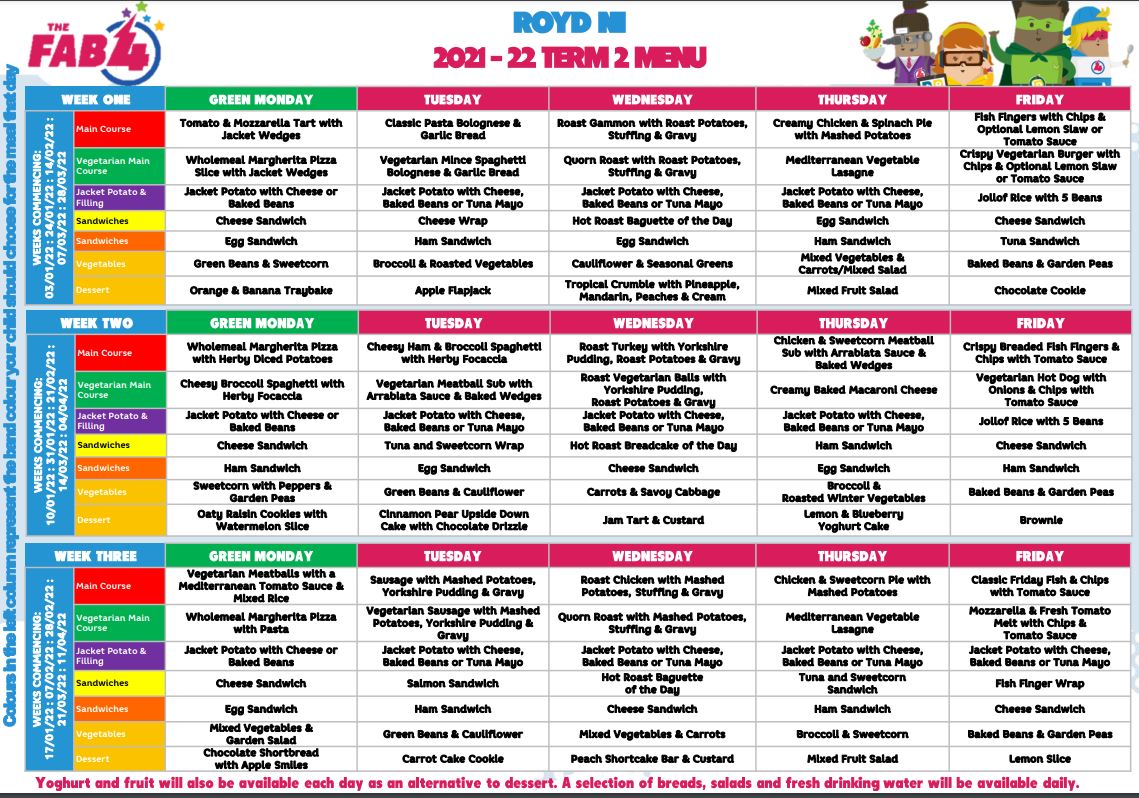 Please click on link below for Medical Diet Enquiry Form