Items available for sale
Book Bags – Superior £6.50
(White T Shirt with logo, navy shorts and draw string bag with logo)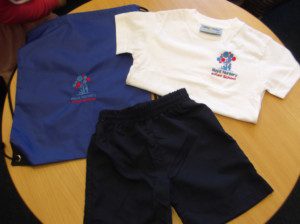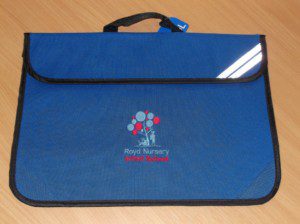 School Uniform
At Royd Nursery Infant School, all children wear our school uniform. We believe that wearing the uniform encourages a sense of belonging and a pride in our school community
Boys: – Blue sweatshirt/cardigan with logo, grey trousers or grey shorts, pale blue polo shirt or white polo shirt, black shoes.
Girls: – Blue sweatshirt/cardigan with logo, grey trousers or grey skirt, grey pinafore or blue gingham dress, pale blue polo or white shirt, black shoes.
All sweatshirts and cardigans must feature the School logo.
Children should wear sensible shoes, which they can fasten by themselves. Children can easily manage shoes with Velcro fastenings, buckles or slip-on shoes. Lace up shoes can be difficult for young children and we encourage parents/carers to buy these when the children are able to do them for themselves.
A polo shirt needs to worn under sweatshirts and cardigans. We also stock a PE Kit consisting of a white T-shirt with logo, navy shorts and a drawstring bag with logo. This is not compulsory but extremely good value.
Outdoor Clothing – please make sure that coats, hats, scarves, gloves/mittens, boots etc. are clearly marked with your child's name. the name should be in a prominent place. Please check regularly to make sure it is still clear enough to read.
PE kit:  Indoor PE is taught in the hall.  Children wear shorts and a white t-shirt and work in bare feet. When the weather is fine children may be taught outside and will need a pair of navy jogging bottoms and a pair of elastic sided plimsolls. PE kits should be name and kept in a bag marked with your child's name and class number.
All clothing should be named clearly. This helps us return lost items of clothing to their owners.
Jewellery – Children are permitted to wear small stud earrings only. Ideally no jewellery should be worn in school. Insurance cover is not provided against loss, damage, theft of property of pupils. We cannot accept responsibility for any such items.
When completing PE children must not wear watches or jewellery including earrings or any other piercing (children must remove piercing themselves) This in in accordance with Local Authority guidance and the school's PE safety policy.
To order School Uniform please complete an order form showing the size, colour and number of each item required. Enclose the correct payment with the order, cheques to be made payable to Royd Nursery Infant School with the cheque card guarantee number on the reverse and handed in to the school office.
If you would like to check the size of a garment, you are welcome to see Mrs Stuart or Mrs Lawton in school office.
School Uniform Order Forms can be collected from the school reception or you can download a copy here. School Uniform Order Form