Royd Nursery Infant School and Deepcar St John's C.E Junior School have both been recognised for "upskilling staff" where they won this category at the prestigious Sheffield Schools Get Active Awards 2020. The standards of PE lessons are extremely high and both schools provide plenty of opportunities for children to be physically active and lead healthy lifestyles. Royd are delighted to have received yet another award that adds to the ever growing list. Despite partial closures to schools this is the third award the school have received this academic year alone with Royd already receiving the Eco Schools top award the "Green Award" and the "Inspirational Education Provision – primary and younger" at the National Autistic Society awards held in Birmingham. To find read about the "upskilling staff" award in The Star please visit:
https://www.thestar.co.uk/education/sporty-sheffield-schools-recognised-upskilling-staff-pe-prestigious-awards-ceremony-2894068
Royd have been awarded with the Eco Schools "Green Award". After previously gaining the "bronze" and more recently the "silver" awards Royd has now received the top accolade which celebrates the school's commitment to being environmentally aware and looking after the plant. A huge well done to all of the children and staff especially the children that form the "Eco Warriors" team, Mrs Heathcote who leads this very talented and deciated group of children, Mrs Barker who had previously submitted the documentation for the bronze and silver awards and to Miss Rawding who took over the role when Mrs Barker went on maternity leave and submitted the documentation required to achieve the Green Award. To read more about it please click on the following links:
https://www.thestar.co.uk/education/sheffield-primary-school-recognised-efforts-looking-after-planet-2848214
On Thursday 27th February Miss Jones, Mr Sly, Mrs Swales and Mrs Fieldsend attended the National Autistic Society – Autism Professionals Awards. The school were nominated by the NHS Speech and Language Therapy Services department. The awards seek to acknowledge the outstanding contributions and achievements of individuals, teams and organisations who have demonstrated excellence, dedication and commitment to improving the lives of autistic people. It was an absolute honour to attend such a prestigious event and hear stories from professionals in the austic field as well as watching performances from children / young adults that have autism. It truly was inspirational. This nomination would not have been possible without the marvelous children that attend Rainbow Room or the hard work, dedication and high standards that Mrs Swales, Mrs Fieldsend and Mrs Levitt set. The children bring so much joy to school and there isn't a day that goes by without laughter coming from Rainbow Room. Well done Rainbow Room children and staff for being recognised as national superstars!
Congratulations to the Foundation Stage team who have been awarded the Charter Mark for Quality by the Sheffield Local Authority. The Charter Mark recognises quality early years provision in Sheffield. Our areas of excellence were highlighted as our 'active maths approach' and 'partnerships with parents'.
Royd are pleased to announce that we have achieved the Leading Parent Partner Award. (LPPA)
A special thanks to staff and governors that met with Andrea and staff that have been part of the working party.
A big thank you to: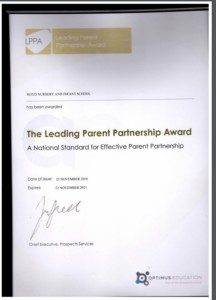 Reverend Hilda Isaacson
Julie Grocutt
John Whitaker
Emiy Kelland
Diane Healthcote
Paula Stuart
Lynn Lawton
Alison Firth
Pamela Hibberd
Leone Travis
Thank you to all the parents who sent in the questionnaires.
LPPA is an exciting national award that will help us to improve our strategies to involve parents and carers more fully in every child's learning experience.
One of the principle criteria of the award is the promotion of and participation in lifelong learning within the school for parents and carers. It is vital that parents and carers understand and support their child's learning and development. Family learning can reinforce their relationships with their child and the school as well as developing their own skills and knowledge.
The LPPA offers long term benefits such as improved pupil attendance and behaviour and increased parental involvement and support. We hope to continue to improve communication between school and home and nurture the child/parent relationships by highlighting the benefits of adult learning and the positive impact this can have on a child's education. This is a challenging but rewarding venture.
The benefits for children are:
It is easier for a child to learn when they get encouragement at home.
They will do better and achieve more when their parents or carers are involved.
Children get access to more activities in and out of school when there are more adults to help.
Their concerns can be sorted out more quickly when parents and carers have a positive relationship with school staff.
They are happier when their parents or other family members get involved in the school. It shows them that you are interested in what the school, is doing.
Allows them to see that you value what they are learning.
Gives them a sense of security.
Helps them to learn about good citizenship from your example.
The benefits for parents and carers are:
Your children do better when you are involved.
You are better able to help and encourage your children.
Parents can build their own confidence and skills.
You get to know the teachers and other parents.
You also gain a better understanding of how the school works.
Get to see how your child relates to other children and their teachers.
Have the satisfaction of knowing that you are making a contribution to the school and your child's learning.
If you have any suggestions for how parents and carers and Royd Nursery Infant School can be involved together more fully in your child's learning experiences, please get in touch.
Recent Events
Many thanks to all of the parents and carers who recently attended our Family Learning Course: Fun with Letters and Sounds. Keep watching this space for details of more courses.
Sheffield Schools Active Award 2018
As part of the city wide Sheffield Schools Get Active Awards 2018, Royd Nursery Infant School received an 'upskilling staff award'. The award recognises how Royd are upskilling teaching and non-teaching staff across their whole school in line with PE, Physical Activity and School Sport and it showcases the impact that this has had in confidence, standards of lessons, opportunities for pupils and attitudes towards PE as a subject area.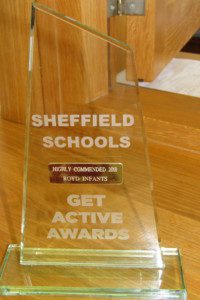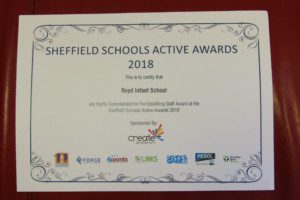 Well done to Y2's for winning two years in a row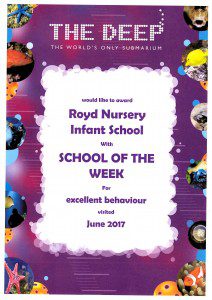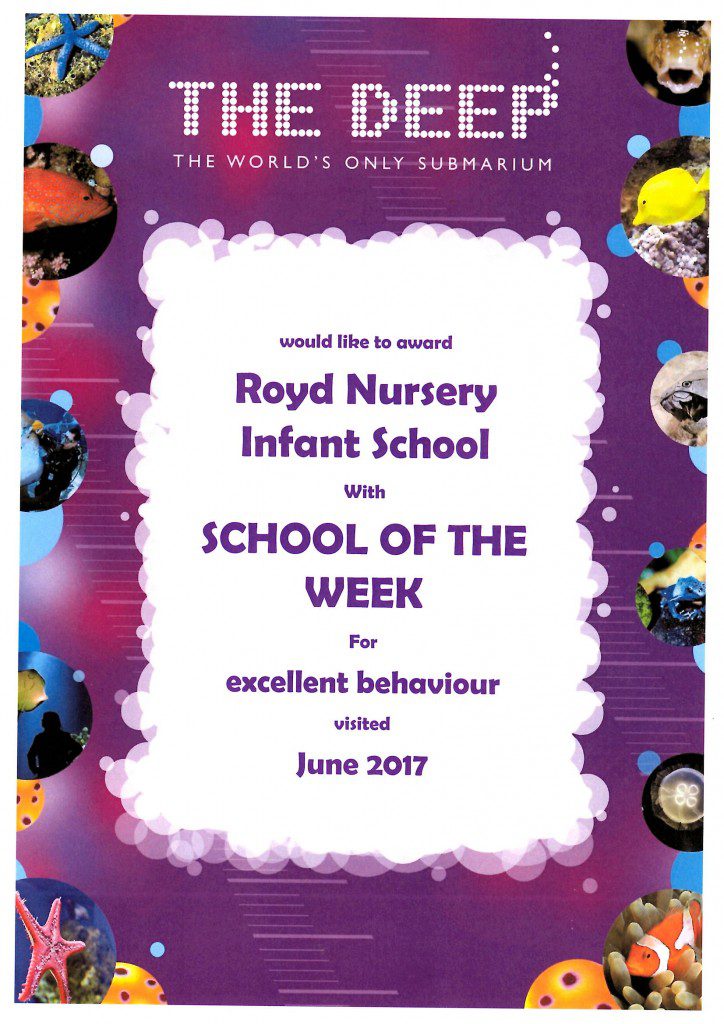 Children at Royd Nursery Infant School are at the forefront of using technology to enhance their work, and that's official!
Following an extensive external assessment Royd has been awarded the prestigious ICT Mark.
The award recognises the school's success in developing the strategic use of technology in both administration and across the curriculum. Parents will have proof that their children are attending a school at the forefront of modern technology.
Royd should be congratulated on this wonderful achievement. This demonstrates the excellent ICT management and teaching that is taking place in local schools."
Head teacher Miss L Jones commented "On behalf of Royd Nursery Infant School, I am delighted to be awarded the ICT Mark. It recognises our positive approach to the use of technology and the benefits it is bringing to our children. We believe that technology can be used in every aspect of learning and that it is essential our children are equipped for the modern world.
We are very proud to include the mark on our website and our mailings and this has been noted on a number of occasions, which has further raised the profile of the use of technology at Royd School.
The lead member of staff, Mr S Sly (ICT Subject Leader), involved in ensuring the school was ready for ICT Mark assessment, commented:
"I am really pleased that the presentation of this award shows recognition of the excellent work that is taking place at Royd School. Applying for the award really brought into focus the ICT work that we are doing each and every day. All the children and staff deserve credit for this achievement."
Mark Chambers, Naace CEO, said "Royd thoroughly deserve the accolade of an ICT Mark accreditation. They clearly demonstrate how important it is to take a whole school approach to using technology in schools. We look forward to working with Royd Nursery Infant School to demonstrate how technology can have a substantial impact on learner outcomes in the future.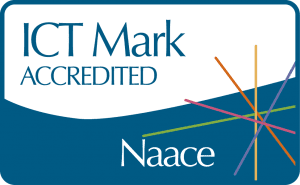 Royd Nursery Infant School has recently been awarded the gold sportsmark which recognises our good/outstanding practise in PE.
Through our connections with LINKS we have completed the required criteria (see below).
School ensures all KS1 children take part in 2 hours of Physical Education within curriculum per week
Children are provided with activities to take part in during breaks and lunchtimes to encourage physical activity
Over 50% of KS1 children are provided with an opportunity to represent school in sporting activity
School has a specific curriculum set for KS1 to follow which includes a wide range of sporting activities focused on physical literacy and fundamental sports skills
Parents / carers are provided with regular information regarding PE and sport throughout the year and are provided information discussing their children's progress in the subject area
There is set assessment criteria which is used throughout the school to analyse children's performances in PE
The school links closely with specific local sports clubs and has a clear performance pathway in place
At least 20% pf KS1 children are provided with opportunities to lead PE and sport in school on a weekly basis.
At least 25% of KS1 children are engaged in extracurricular club activities per week
We are really pleased with the results and aim to continue and develop PE through school.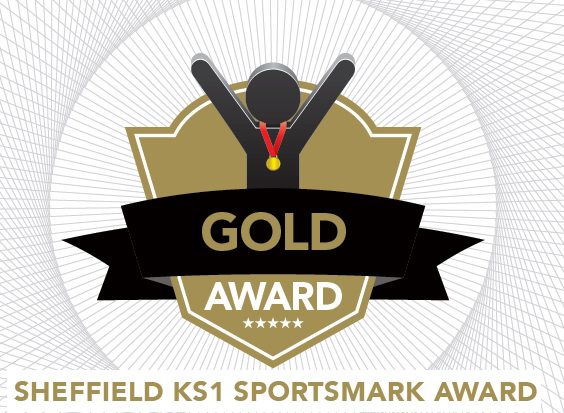 Well done to Y2's on their fabulous behaviour on their trip to The Deep.