Sheffield Schools Active Award 2018
As part of the city wide Sheffield Schools Get Active Awards 2018, Royd Nursery Infant School received an 'upskilling staff award'. The award recognises how Royd are upskilling teaching and non-teaching staff across their whole school in line with PE, Physical Activity and School Sport and it showcases the impact that this has had in confidence, standards of lessons, opportunities for pupils and attitudes towards PE as a subject area.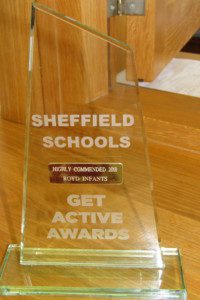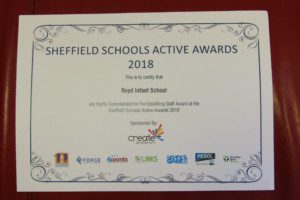 Well done to Y2's for winning two years in a row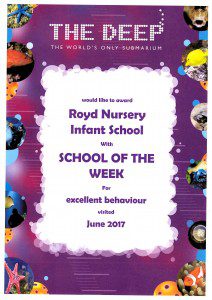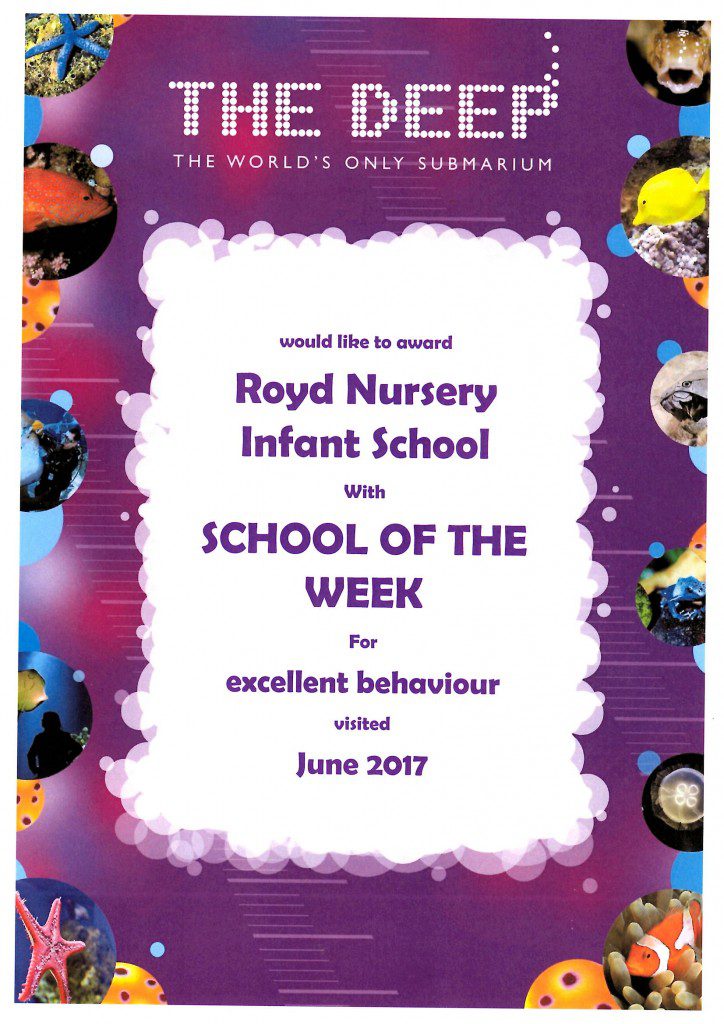 Children at Royd Nursery Infant School are at the forefront of using technology to enhance their work, and that's official!
Following an extensive external assessment Royd has been awarded the prestigious ICT Mark.
The award recognises the school's success in developing the strategic use of technology in both administration and across the curriculum. Parents will have proof that their children are attending a school at the forefront of modern technology.
Royd should be congratulated on this wonderful achievement. This demonstrates the excellent ICT management and teaching that is taking place in local schools."
Head teacher Miss L Jones commented "On behalf of Royd Nursery Infant School, I am delighted to be awarded the ICT Mark. It recognises our positive approach to the use of technology and the benefits it is bringing to our children. We believe that technology can be used in every aspect of learning and that it is essential our children are equipped for the modern world.
We are very proud to include the mark on our website and our mailings and this has been noted on a number of occasions, which has further raised the profile of the use of technology at Royd School.
The lead member of staff, Mr S Sly (ICT Subject Leader), involved in ensuring the school was ready for ICT Mark assessment, commented:
"I am really pleased that the presentation of this award shows recognition of the excellent work that is taking place at Royd School. Applying for the award really brought into focus the ICT work that we are doing each and every day. All the children and staff deserve credit for this achievement."
Mark Chambers, Naace CEO, said "Royd thoroughly deserve the accolade of an ICT Mark accreditation. They clearly demonstrate how important it is to take a whole school approach to using technology in schools. We look forward to working with Royd Nursery Infant School to demonstrate how technology can have a substantial impact on learner outcomes in the future.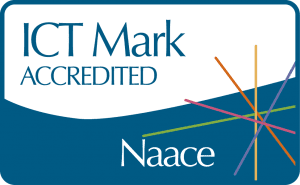 Royd Nursery Infant School has recently been awarded the gold sportsmark which recognises our good/outstanding practise in PE.
Through our connections with LINKS we have completed the required criteria (see below).
School ensures all KS1 children take part in 2 hours of Physical Education within curriculum per week
Children are provided with activities to take part in during breaks and lunchtimes to encourage physical activity
Over 50% of KS1 children are provided with an opportunity to represent school in sporting activity
School has a specific curriculum set for KS1 to follow which includes a wide range of sporting activities focused on physical literacy and fundamental sports skills
Parents / carers are provided with regular information regarding PE and sport throughout the year and are provided information discussing their children's progress in the subject area
There is set assessment criteria which is used throughout the school to analyse children's performances in PE
The school links closely with specific local sports clubs and has a clear performance pathway in place
At least 20% pf KS1 children are provided with opportunities to lead PE and sport in school on a weekly basis.
At least 25% of KS1 children are engaged in extracurricular club activities per week
We are really pleased with the results and aim to continue and develop PE through school.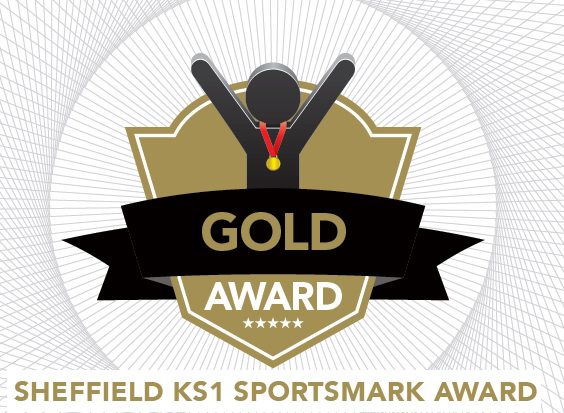 Well done to Y2's on their fabulous behaviour on their trip to The Deep.