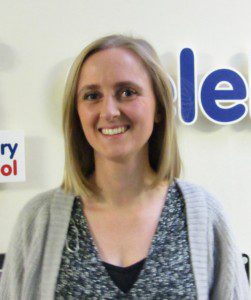 My name is Miss Payne and I am a teacher in Year 1 and Year 2. I really enjoy welcoming children into my class every morning and helping them learn new skills in every subject. In my spare time, I like to be walking or jogging in the outdoors, riding my Mum's horses and skiing in the winter. I also enjoy watching live music and I love the excitement I feel when I listen to an amazing singer!
My name is Miss Sheppard and I am a teaching assistant in Year 1 and Year 2. My favourite subject is English because I enjoy reading fiction books and I love reading to the children. I also enjoy singing and dancing and going to the cinema to watch films.
I work in the office and as a lunchtime supervisor and I love my job, every day is different. I really enjoy taking photos for the website especially when the children have be awarded reader, writer and mathematician of the week. They are so proud and this shows in their faces. At home, I have four cats and enjoy looking after them. I love BIG cats and my favourite is the tiger.
As part of this term's topic 'Moon Zoom', we invited Wonderdome Planetarium to visit and bring an exciting multimedia exploration of the solar system. The children loved learning about the planets and their surroundings. They [...]